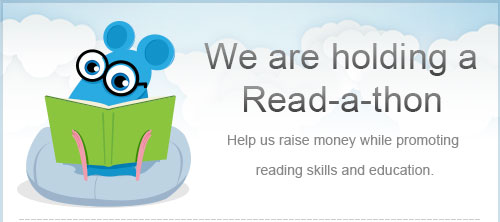 We will be starting on:


2019-02-15
2019 FHES Read-A-Thon
Let Your Imagination Run Wild!
Dear Flint Hill Families,
It's time for Flint Hill's 8th Annual Read-A-Thon! This year's theme is "Open a Book…and Let Your Imagination Run Wild" Our goal is to encourage your student's love of reading while raising funds for our school. In the last FHES Read-A-Thon, students read over 200,000 minutes. Let's encourage our students to surpass those minutes this year.
Why are we having a Read-A-Thon? During the 2018-2019 school year, the PTA will spend an average of $100 per student on resources and programs that directly touch each student at FHES. 100% of the money collected from the Read-A-Thon will be used to fund important school wide programs such as classroom technology, field trips, staff development, reading resources, assemblies and the list goes on. This year, we hope the Read-A-Thon will raise $14,000 to support FHES students.
When is the Read-A-Thon? The FHES Read-A-Thon will start Friday, February 15th and end on Friday, March 1st at 9:00 pm.
How do I participate? This year we are taking our Read-A-Thon online! Your student can choose to personalize their page with a picture, record and track minutes read, and share their Read-A-Thon page with extended family and friends to help raise money for FHES. Your student's Read-A-Thon page can only be viewed by yourself and those who you choose to share the link with via email, Facebook and/or Twitter. Students will receive a free prize for simply creating their FHES Read-A-Thon reader page. Students earn RAT Bucks for every donation they receive from a sponsor. At the end of the event, students spend their RAT Bucks and purchase any prizes they choose. Student readers will receive 15% of their collected donations to spend at the Read-A-Thon online store. Students participating in the Read-a-thon will also be entered in the prize raffles for great prizes including a FIT Bit and a Kindle Fire.
Your student will track their minutes read from Friday, February 15th to Friday, March 1st.
How are donations collected? Donations are paid online so there's no cash collection by students. Sponsors will have the option to make their one-time donation via E-check, credit card, or PayPal. If a student has a sponsor who prefers to pay by cash or check, the student may still accept the donation. Donations collected by cash/check will be counted towards total donations collected for the prize raffles, but the reader cannot use these donations towards RAT Bucks.
FHES Families choosing not to participate through the online Read-A-Thon, can request a paper Read-A-Thon packet by emailing Melissa Molivadas at mmolivadas@gmail.com. Please include student(s) name and teacher(s) in your email. Please request your packet by Thursday, February 14th so the packet can be delivered to your student's classroom by Friday February 15th. The packet will include directions, reading logs, donation form, and an envelope to collect donations. 
Do I have to collect donations to participate? NO. While raising funds to support our school is one of our goals, the Read-A-Thon is first and foremost about encouraging students to read. Students do not have to collect donations to participate in the Read-A-Thon. Every student is encouraged to participate and everyone who tracks their minutes online or turns in a reading log will have their name featured on the bulletin board in the library. In addition, all students who read at least 200 minutes will be entered in both the Fitbit and $25 Bookstore Gift Card raffles. We encourage all students to read and track their minutes.
Prize Raffles 
• Fitbit Tracker (for minutes read) – each student who reads 200 minutes gets one raffle entry and earns another raffle entry for each 100 additional minutes read
• $25 Bards Alley Bookstore Gift Card (for minutes read) – each student who reads 200 minutes gets one raffle entry and earns another raffle entry for each 60 additional minutes read
• Amazon Kindle Fire (for donations collected) – each student who raises $50 gets one raffle entry and earns another raffle entry for every $50 raised.
We are counting on your support to make our Read-A-Thon a success. Please help your student get excited to read and "Open a Book…and Let Your Imagination Run Wild!"
If you have any questions, please contact either of us at the email addresses listed below:
Melissa Molivadas (mmolivadas@gmail.com) Amy Martinson  (martinsonaa@gmail.com)
The Read-A-Thon Committee